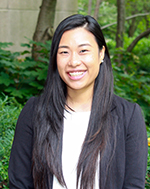 Kanokphan (Mew) Rattanawatkul
Management Analyst, Health Resources and Service Administration
Earned CIVICUS citation: 2009
UMD Class of 2011, B.B in Community Health
UMD Class of 2014, M.P.H in Epidemiology
How did CIVICUS impact your professional path?
I was undecided in my major as a first year student. Involvement in community service helped me narrow down what I wanted to do by exposing me to new experiences and a variety of careers. In addition, CIVICUS taught me how to effectively work in a team, particularly a diverse team. This skill is vital to my work in the federal government.
What would you share with prospective CIVICUS students and parents?
I felt lucky to be in CIVICUS. Not only did we have air conditioning, but it kept me from getting overwhelmed by a big school. From my first day in CIVICUS, it was easy to find people with similar interests and I was connected with upperclassman involved in almost every organization on campus. CIVICUS made going to a big university more manageable.
Student Involvement:
President, Thai Student Association
Peer Educatior, University Health Center
Omicron Delta Kappa National Leadership Honor Society
Federal Semester Program
McNair Scholar
Last modified
11/16/2018 - 2:11 pm