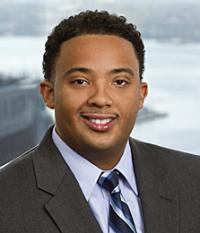 JaMar Mancano
Associate Attorney, Venable LLP
Earned CIVICUS citation: 2007
UMD Class of 2009, Government and Politics
J.D., UMD School of Law, 2012
How did CIVICUS help you on your professional path?
During my time with CIVICUS I learned the importance of being civically engaged and providing service to others. Those principles directly tie into my responsibilities as an attorney. I better understand the importance of providing pro bono services to the community and helping those who may not be able to afford legal representation. I have incorporated these principles into my professional life by being engaged in bar organizationas that allow me to connect, network, and be civically involved in communities in which I work.
What would you tell others about CIVICUS?
As a first generation college student, it was important to me that CIVICUS created a small community of people that I could call a family during my time at Maryland. I owe a lagre amount of my success at University of Maryland and in my professional career to what I learened during the time I was a part of the CIVICUS program -- not only in the classroom but also in the halls of Somerset and on our many service trips.
Student Involvement:
Resident Assistant
University Student Judiciary
Student Legal Aid
Facilitator, Common Ground Peer Dialogue Group
Habitat for Humanity
Student Ambassador to South Africa, Residence Life
Last modified
11/16/2018 - 2:21 pm